Camptothecine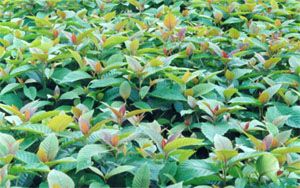 [ Specification ] 99% Irinotecan Hydrochloride, 99%Topotecan Hydrochloride
[ Detection method ] HPLC
[ Plant Source ] The fruit or root of Camptotheca acuminata Decne.
[ Molecular Formula and molecular weight ] C20H16N2O4; 348.34
[ Traits ] Light yellow or yellow needle-like crystalline powder, sunlight-perishable, a micro-hygroscopicity. Pharmacological
[ Effects ]
Antineoplastic agents, applies to primary liver cancer, stomach cancer, bladder cancer, colorectal cancer, non-small cell lung cancer, leukemia and other malignant tumors.
   If you want to learn more about Camptothecine information, welcome to contact us!