BCDMH
BCDMH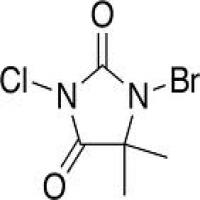 CAS:16079-88-2 
Molecular Formula:C5H6BrClN2O2
Molecular Weight:241.47
Product Description:
1-Bromo-3-chloro-5,5-dimethylhydantoin (BCDMH) is a chemical structurally related to hydantoin. It is a white crystalline compound with a slight bromine and acetone odor and is insoluble in water, but soluble in acetone.
BCDMH is an excellent source of both chlorine and bromine as it reacts slowly with water releasing hypochlorous acid and hypobromous acid. It used as a chemical disinfectant used for recreational water and drinking water purification.
For more information of product, please send the email to bkherb@globals-globals.com


After send online enquiry, we will reply you as soon as possible, if not get any response on time please contact us by Tel or Email.This form is unable to receive your inquiry from aol, hotmail, gmail or others but company email address.
E-MAIL:bkherb@globals-globals.com
TEL: +86 592 536 5868
WHATSAPP: +86 189 6516 2351