Stanolone
Stanolone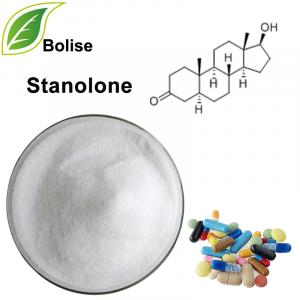 [ CAS No. ] 521-18-6
[ Molecular Formula ] C19H30O2 
[ Molecular Weight ]  290.442
[ Appearance ] White or Almost White Crystalline Powder
COA of Stanolone
Assay(by TLC):  99.15%
Specific Rotation: +27.2°
Loss On Drying: 0.25%
Sulphated ash: 0.03%
Related Substance:  2.0%max
Residual Solvents:  320PPm
Melting Point: 179.0~180.5°C
About Stanolone
Dihydrotestosterone (commonly abbreviated to DHT), or 5α-dihydrotestosterone (5α-DHT), also known as androstanolone (5α-androstan-17β-ol-3-one) as well as 17β-hydroxy-5α-androstan-3-one, is a sex steroid and androgen hormone.It is an agonist of the androgen receptor (AR). It plays important physiological role in sexual differentiation, maturation of the penis and scrotum, hair, sebum production and development and maintenance of the prostate gland and seminal vesicles. It is mainly used for the treatment of male hypogonadism, androgen deficiency of severe illness, androgen deficiency of ageing and microphallus in infancy.
For more information of product, please send the email to [email protected]


After send online enquiry, we will reply you as soon as possible, if not get any response on time please contact us by Tel or Email.This form is unable to receive your inquiry from aol, hotmail, gmail or others but company email address.
E-MAIL:[email protected]
TEL: +86 592 536 5868
WHATSAPP: +86 189 6516 2351