Prasterone Enanthate
Prasterone Enanthate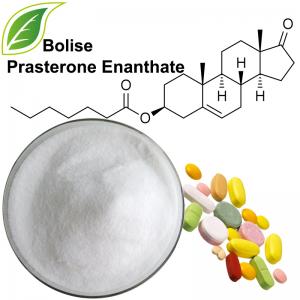 [ CAS NO. ] 23983-43-9  
[ Molecular Formula ] C26H40O3
[ Molecular weight ] 400.603
[ Appearance ] White or almost white crystalline powder
Main Function of Prasterone Enanthate 
1. Anti-aging, retain green vigor. 
2. Enhance physical fitness, improve mood and sleep, improve memory; 
3. Improve sexual function, improve sexual desire; 
4. Adjust the immune system function, improve body immunity,
5. Weight loss; 
6. Assist to treat disease 
Application of Prasterone Enanthate
For the manufacture of steroid hormone drugs intermediates, with anti-aging and protein assimilation. Main features: 1. Retard aging and maintain youthful vigor; 2. Enhance physical fitness, improve mood and sleep, improve memory; 3. Improve sexual function, increase libido; 4. Regulate the immune system function, improve the body immunity, 5 weight loss; 6 auxiliary treatment of diseases.
CO of Prasterone Enanthate
Solubility:  Soluble in Chlorophorm and in dichloromethane
Clarity and color of solution:  Clear and colorless
Assay:  98.65%
Related substances: 2.0% max by HPLC
Loss on drying:  0.26%
Melting point: 68.5~70.0℃
Free heptanoic acid:  0.08%
Heavy metals:  <10PPm
Sulphated Ash:  0.05%
About Prasterone Enanthate
Prasterone enanthate is a synthetic, injected, long-lasting ester prodrug of dehydroepiandrosterone (DHEA), a weak androgen and neurosteroid. It is a component of Gynodian Depot, a combination formulation of 4 mg estradiol valerate and 200 mg prasterone enanthate in oil for depot intramuscular injection typically once every 4 weeks, that is used in the treatment of menopausal symptoms and is marketed in Europe and South America. Prasterone enanthate has an average duration of 18 days in this formulation. The pharmacokinetics of the formulation have also been assessed in other studies. The medication was patented, by Schering, in 1971.
[ Storage ]
Stored in dry and cool place, keep away from strong light and heat.
[ Shelf life ]
Two years when stored properly
[ Package ]
Enterprise standard. Drums or cartons, 25kgs/drum(carton),2.5kg/bag, double vacuum plastic packing (vacuum sealed foil bags) inside.
 
For more information of product, please send the email to [email protected]


After send online enquiry, we will reply you as soon as possible, if not get any response on time please contact us by Tel or Email.This form is unable to receive your inquiry from aol, hotmail, gmail or others but company email address.
E-MAIL:[email protected]
TEL: +86 592 536 5868
WHATSAPP: +86 189 6516 2351