Phosphatidylcholine
Phosphatidylcholine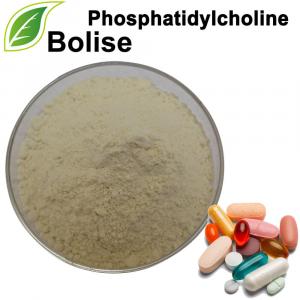 [ Appearance ] Light Yellow Powder
[ Specification ] 99%
[ Function ]
1. Promote the brain and relieve ADHD in children;
2. Improve attention and concentration for adolescents and adults;
3. Improve memory for the elderly, prevent and alleviate alzheimer's disease.
[ Application ]
Used in food, healthcare supplement etc.
About Phosphatidylcholine
Phosphatidylcholine is extracted from soybean powdered lecithin,the product is yellow or brown yellow plastic substances or plastic particles,which is easy to absorb moisture and oxidize,it is also easy for them to disperse in water and form stable emulsion, they are insoluble , but soluble in alcohol, ether, and other organic solvents.
Phosphatidylcholine is a vital substance found in every cell of the human body. Thus, some researchers have used mutant mouse models with severe oxidative damage as a model of "accelerated aging" to investigate the possible role of phosphatidylcholine supplementation as a way of slowing down aging-related processes and improving brain functioning and memory capacity in dementia.At present, phosphatidylserine has attracted wide attention as a brain-specific nutrient, and is regarded as a new "smart nutrient".
For more information of product, please send the email to [email protected]


After send online enquiry, we will reply you as soon as possible, if not get any response on time please contact us by Tel or Email.This form is unable to receive your inquiry from aol, hotmail, gmail or others but company email address.
E-MAIL:[email protected]
TEL: +86 592 536 5868
WHATSAPP: +86 189 6516 2351