Phenylbutazone
Phenylbutazone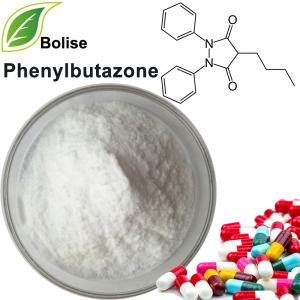 [ Synonyms ]4-Butyl-1,2-diphenyl-3,5-pyrazolidinedione; 1,2-Diphenyl-3,5-dioxo-4-n-butylpyrazoline
[ CAS No. ] 50-33-9
[ Molecular Formula ] C19H20N2O2
[ Molecular Weight ] 308.38
[ Melting point ] 104-107 ºC
[ Water solubility ] <0.1 g/100 mL at 23.5 ºC
[ Appearance ] off-white powder
About Phenylbutazone
Phenylbutazone is a compound of research interest as an anti-inflammatory and anti-proliferative agent. Several studies have investigated Phenylbutazone as an anti-inflammatory agent and its role in mediating prostaglandin synthesis. Phenylbutazone may be of interest regarding research into anti-proliferative effects as well, especially in colorectal cancer studies. In studies with human colon cancer cell lines investigating anti-proliferative capabilities of NSAIDs, Phenylbutazone was noted to have intermediate anti-proliferative potency as compared to other NSAIDs. Phenylbutazone is an inhibitor of Cox (cyclooxygenase). that is also a substrate for peroxidation by Cox.
For more information of product, please send the email to sales@boliseco.com


After send online enquiry, we will reply you as soon as possible, if not get any response on time please contact us by Tel or Email.This form is unable to receive your inquiry from aol, hotmail, gmail or others but company email address.
E-MAIL:sales@boliseco.com
TEL: +86 592 536 5868
WHATSAPP: +86 189 6516 2351