Naproxen Sodium
Naproxen Sodium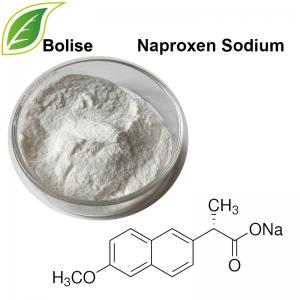 [ Chemical Name ] (2S)-2-(6-Methoxy-2-naphthyl)propanoic acid sodium salt
[ CAS NO. ] 26159-34-2 
[ Molecular Formula ] C14H13NaO3
[ Molecular weight ] 252.245
[ Appearance ] White or white crystalline powder
[ Melting point ]  250-251°C
[ Solubility ] Freely soluble in water, freely soluble or soluble in methanol, sparingly soluble in ethanol (96 per cent).
[ Uses ]  Used as anti-inflammatory analgesic
COA of Naproxen Sodium
A.Infrared absorption: Meet the standard
B.UV ray absorbtion: At 272nm wavelength, the same method as the standard detection, absorption coefficient deviation of not more than 3%.
Loss on drying: 0.06%
Specific rotation: -16.7°
Heavy metal:  ≤0.002% 
Free naproxen:  0.07% 
Residual solvent - acetone: <0.06%
Chromatographic purity: Meet the standard
Assay: 99.7%  
About Naproxen Sodium
Naproxen Sodium's medical uses are related to its mechanism of action as an anti-inflammatory compound. Naproxen Sodium is used to treat a variety of inflammatory conditions and symptoms that are due to excessive inflammation, such as pain and fever (Naproxen Sodium has fever-reducing, or antipyretic, properties in addition to its anti-inflammatory activity). Notably, not all medications that reduce fever are anti-inflammatory compounds (such as paracetamol). Inflammatory sources of pain that may respond to Naproxen Sodium's anti-inflammatory activity are conditions such as migraine, osteoarthritis, kidney stones, rheumatoid arthritis, psoriatic arthritis, gout, ankylosing spondylitis, menstrual cramps, tendinitis, and bursitis.
Because of its anti-inflammatory mechanism of action, one would not expect Naproxen Sodium to be useful in treating non-inflammatory causes of pain (e.g., diabetic nerve pain).
Naproxen sodium is used as a "bridge therapy" in medication-overuse headache to slowly take patients off of other medications.
For more information of product, please send the email to bkherb@globals-globals.com


After send online enquiry, we will reply you as soon as possible, if not get any response on time please contact us by Tel or Email.This form is unable to receive your inquiry from aol, hotmail, gmail or others but company email address.
E-MAIL:bkherb@globals-globals.com
TEL: +86 592 536 5868
WHATSAPP: +86 189 6516 2351