Ketanserin
Ketanserin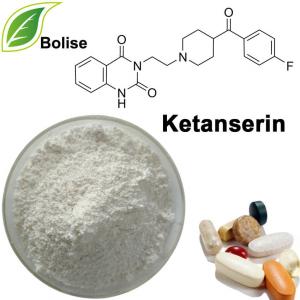 [ CAS NO. ]  74050-98-9
[ Molecular Formula ] C22H22FN3O3
[ Molecular Weight ]  395.4268
[ Melting point ] 227-235°C
[ Appearance ] White or off-white powder
About Ketanserin
Ketanserin is a drug used clinically as an antihypertensive agent and in scientific research to study the serotonin system; specifically, the 5-HT2A receptor.
Ketanserin is 5 - serotonin receptor blockers, selective blockade of 5 ht2 receptors, are weaker and H receptor antagonist. Have a lower high blood pressure in patients with peripheral resistance, renal vascular resistance decreased more obvious, for normal function. With obstructive vascular lesions can improve blood supply of lower limbs. For Renault disease can improve tissue perfusion, the increased blood flow to the skin. After intravenous injection can decrease the right atrial pressure, pulmonary artery pressure and pulmonary capillary wedge pressure.
For more information of product, please send the email to [email protected]


After send online enquiry, we will reply you as soon as possible, if not get any response on time please contact us by Tel or Email.This form is unable to receive your inquiry from aol, hotmail, gmail or others but company email address.
E-MAIL:[email protected]
TEL: +86 592 536 5868
WHATSAPP: +86 189 6516 2351