Geraniol
Geraniol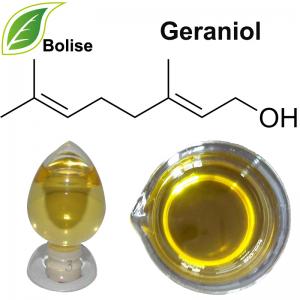 [ CAS NO. ] 106-24-1  
[ Molecular Formula ] C10H18O
[ Molecular weight ] 154.253
[ Purity ] 98%min
[ Relative density ] 0.880~0.925
[ Refraction ] 1.4650~1.5100
[ Content ]  98%         
[ Appearance ] Light yellow to yellow liquid
[ Application ]
In addition to rose oil, palmarosa oil, and citronella oil, it also occurs in small quantities in geranium, lemon, and many other essential oils. With a rose-like scent, it is commonly used in perfumes. It is used in flavors such as peach, raspberry, grapefruit, red apple, plum, lime, orange, lemon, watermelon, pineapple, and blueberry.
Geraniol is produced by the scent glands of honeybees to mark nectar-bearing flowers and locate the entrances to their hives. It has been considered as a mosquito repellent.
It is a byproduct of the metabolism of sorbate and, thus, is a very unpleasant contaminant of wine if bacteria are allowed to grow in it.
About Geraniol
Geraniol is a monoterpenoid and an alcohol. It is the primary component of rose oil, palmarosa oil, and citronella oil (Java type). It is a colorless oil, although commercial samples can appear yellow. It has low solubility in water, but it is soluble in common organic solvents. The functional group derived from geraniol (in essence, geraniol lacking the terminal −OH) is called geranyl. 
[ Storage ] Store in cool place. Keep container tightly closed in a dry and well-ventilated place.
For more information of product, please send the email to bkherb@globals-globals.com


After send online enquiry, we will reply you as soon as possible, if not get any response on time please contact us by Tel or Email.This form is unable to receive your inquiry from aol, hotmail, gmail or others but company email address.
E-MAIL:bkherb@globals-globals.com
TEL: +86 592 536 5868
WHATSAPP: +86 189 6516 2351