Choline Bitartrate
Choline Bitartrate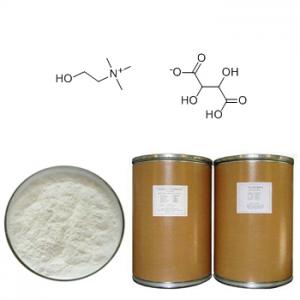 Synonyms: choline hydrogen tartrate; Cholinebitartrate; 2-hydroxy-N,N,N-trimethylethanaminium (2R,3R)-3-carboxy-2,3-dihydroxypropanoate; 2-hydroxy-N,N,N-trimethylethanaminium 3-carboxy-2,3-dihydroxypropanoate
CAS NO.:87-67-2
Molecular formula:C9H19NO7
Molecular weight:253.2497
Density:1.47 g/cm3
Melting Point:151-153 °C
Boiling Point:399.3 °C at 760 mmHg
Flash Point:209.4 °C
Water Solubility: Soluble in alcohol and slightly soluble in water.
Appearance: White powder
Application: the case of vitamin b group, the addition of nutritional agent and quzhi agents.
About Choline Bitartrate:
Choline Bitartrate is a salt of choline which, like dihydrocholine citrate, is a nutritional supplement and a fat-reducing agent. It promotes the metabolism of fat and prevents the accumulation of fat in the liver. As a vitamin product, it is widely used in medicines, health products, and food nutrition.
For more information of product, please send the email to bkherb@globals-globals.com


After send online enquiry, we will reply you as soon as possible, if not get any response on time please contact us by Tel or Email.This form is unable to receive your inquiry from aol, hotmail, gmail or others but company email address.
E-MAIL:bkherb@globals-globals.com
TEL: +86 592 536 5868
WHATSAPP: +86 189 6516 2351