Centrophenoxine HCL
Centrophenoxine HCL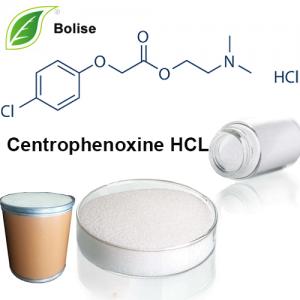 [ Synonyms ]  Centrophenoxine hydrochloride; Meclofenoxate hydrochloride;Meclofenoxate HCl
[ CAS NO. ]   3685-84-5 
[ Molecular Formula ]  C12H17Cl2NO3
[ Molecular Weight ]  294.172
[ Appearance ]  White crystalline powder
COA of Centrophenoxine HCL
HPLC Assay:  99.0%
Loss on drying: ≤1.0%
Residue on ignition:  ≤0.1%
Melting point: 137- 142℃
Heavy metals:  ≤10ppm
PH: 4.1
Main Functions of Centrophenoxine HCL 
1. Memory decline through aging
2. Dementia and Alzheimer's (clinically)
3. Brain damage or injuries
4. Alcohol or drug abuse symptoms and effects
5. Promote the metabolism of brain;
6. Clear cells in the fat brown pigment (Lipofuscin);
7. Increase the cerebral blood flow;
8. Improve the ability to remember;
9. The resisting hypoxia;
10. Can promote protein assimilation; enhance the efficacy of other anabolic drugs in the body;
11. Increase in the amount of serotonin in the brain;
About Centrophenoxine HCL
Meclofenoxate (Centrophenoxine) HCl is an anti-aging drug used to treat Alzheimer disease, and also inhibits the activity of cholinephosphotransferase.
Centrophenoxine HCL can enhance unique physical and cognitive properties. Centrophenoxine HCL improves both the functioning and appearance of cells in your brain and body by helping to rid them of waste products and by improving the composition of cellular membranes. Centrophenoxine HCL can thus be considered both a cognitive enhancer and an anti-aging supplement.
For more information of product, please send the email to bkherb@globals-globals.com


After send online enquiry, we will reply you as soon as possible, if not get any response on time please contact us by Tel or Email.This form is unable to receive your inquiry from aol, hotmail, gmail or others but company email address.
E-MAIL:bkherb@globals-globals.com
TEL: +86 592 536 5868
WHATSAPP: +86 189 6516 2351