Scopolamine Hydrobromide
Scopolamine Hydrobromide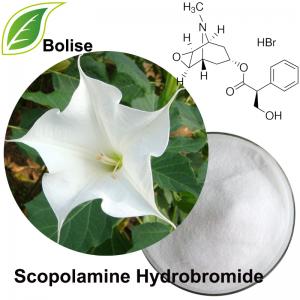 [ CAS NO. ] 114-49-8
[ Molecular Formula ] C17H21NO4BRH3H2O
[ Molecular Weight ] 438.31
About Scopolamine Hydrobromide
Colorless crystals or white crystalline powder; Odourless; Micro to weathering. This product soluble in water, slightly soluble in ethanol, slightly dissolved in chloroform, insoluble in ether.Is a bronchodilator, suitable for maintenance therapy of chronic obstructive pulmonary disease (COPD), including chronic bronchitis and emphysema, breathing difficulties associated with sexual maintenance treatment and prevention of acute episodes.
An anticholine drug with the therapeutic effect as atropin. It is used clinically as drug for antegeneral anesthesia and for motion sickness, shaking palsy, manic psychosis and organophosphate poisoning. 
For more information of product, please send the email to sales@boliseco.com


After send online enquiry, we will reply you as soon as possible, if not get any response on time please contact us by Tel or Email.This form is unable to receive your inquiry from aol, hotmail, gmail or others but company email address.
E-MAIL:sales@boliseco.com
TEL: +86 592 536 5868
WHATSAPP: +86 189 6516 2351