Ergometrine Maleate(Ergonovine Maleate, Ergobasine Maleate)
Ergometrine Maleate(Ergonovine Maleate, Ergobasine Maleate)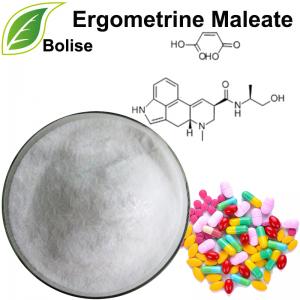 Cas No.: 129-51-1
Specification: USP 26, JP XIV, Ph. Eur. 4
Application: 
 Blood loss after child birth (postpartum haemorrhage).
Use with caution in: 
 ·Life long inherited blood diseases which can cause a variety of symptoms, including mental health problems (porphyrias).
 ·More than one baby in the uterus (multiple pregnancy).
Description: 
 Ergometrine maleate belongs to a group of medicines called the ergot alkaloids. The way ergometrine works is not fully understood. It is thought to act on two types of receptors, 5HT and alpha receptors.
For more information of product, please send the email to sales@boliseco.com


After send online enquiry, we will reply you as soon as possible, if not get any response on time please contact us by Tel or Email.This form is unable to receive your inquiry from aol, hotmail, gmail or others but company email address.
E-MAIL:sales@boliseco.com
TEL: +86 592 536 5868
WHATSAPP: +86 189 6516 2351