Ergometrine Maleate(Ergonovine Maleate, Ergobasine Maleate)
Ergometrine Maleate(Ergonovine Maleate, Ergobasine Maleate)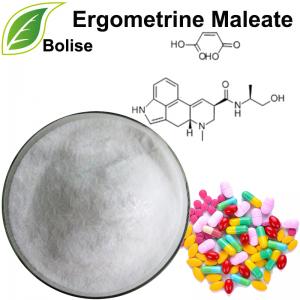 [ Cas No. ] 129-51-1
[ Specification ]  USP 26, JP XIV, Ph. Eur. 4
[ Application ]  Blood loss after child birth (postpartum haemorrhage).
[ Use with caution in ] 
 ·Life long inherited blood diseases which can cause a variety of symptoms, including mental health problems (porphyrias).
 ·More than one baby in the uterus (multiple pregnancy).
About Ergometrine Maleate
Ergometrine maleate belongs to a group of medicines called the ergot alkaloids. The way ergometrine works is not fully understood. It is thought to act on two types of receptors, 5HT and alpha receptors.

After send online enquiry, we will reply you as soon as possible, if not get any response on time please contact us by Tel or Email.
Welcome to Bolise Co., Ltd.
1. E-mail: [email protected]
2. Tel: +86 592 536 5868
Working Time: 8:30--18:00, Monday--Friday
For more information of product, please send the email to [email protected]

1. Send Message to US ->
2. Confirm Product Information ->
3. Order & Payment->
4. Packaging&Shipping->
Our products have been certificated with the ISO certificate, free sample is available.
CGMP Manufacturer to ensure the quality stable and reliable.
All of our ingredients meet strict quality and food safety standards, and surpass industry standards for purity and cleanliness.
We are committed to meeting customers' unique needs by providing comprehensive and professional service, enjoying a good reputation among our business partners and customers for high-quality products, excellent after-sales services, competitive prices, and prompt shipping.
Highly welcome friends from all over the world to contact us. We will reply to you as soon as possible, ​after sending an online inquiry. And please feel free to call us if any urgent inquiry or without getting response from us in time.