Beryllium Fluoride
Beryllium Fluoride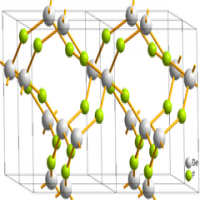 CAS:7787-49-7
Molecular Formula:BeF2
Molecular Weight: 47.01g/mol
Description: 
This product are glassy lumps with the melting point 550 ℃. They are hygroscopic.  It will become fluid at about 800 ℃ and sublimate at  1036 ℃ (133Pa) .It is soluble in water, slightly soluble in alcohol,more soluble in the mixture of alcohol and ether,insoluble in anhydrous hydrogen fluoride. It it toxic and  there is the possibility to have cancer.It is used in the nuclear reactor, manufacture of beryllium and beryllium alloys. It is used in glass industry.This product should be sealed in a dry place.
For more information of product, please send the email to bkherb@globals-globals.com


After send online enquiry, we will reply you as soon as possible, if not get any response on time please contact us by Tel or Email.This form is unable to receive your inquiry from aol, hotmail, gmail or others but company email address.
E-MAIL:bkherb@globals-globals.com
TEL: +86 592 536 5868
WHATSAPP: +86 189 6516 2351