1,8-Cineole
1,8-Cineole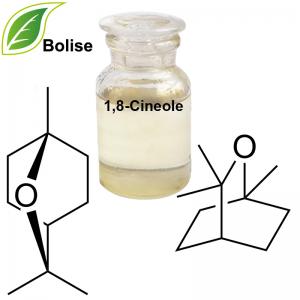 [ Synonyms ] Eucalyptol; 1,8-Epoxy-p-menthane
[ CAS NO. ] 470-82-6  
[ Molecular Formula ] C10H18O
[ Molecular weight ] 154.253
[ Appearance ] Colorless to light yellow oily liquid
[ Application ]
1. It is a must for the preparation of such essential oils. 
2. Used in medicated soaps, sprays or cosmetic fragrances and other hygiene products, such as toothpaste, for bactericidal action. 
3. It can be used as a masking agent for bad breath in industrial products. 
4. Used in food flavors.
5. Used as an antiseptic. 
6. Used as pharmaceutic aid.
COA of 1,8-Cineole
Solubility: Soluble in ether, chloroform, glacial acetic acid,propylene glycol, slightly soluble in water, 1 mL eucalyptus, soluble in 5 mL 60% ethanol.
Boiling Point:  176.8℃
Melting Point: 1.3℃
Freezing Point:  1℃
Flashing Point:  47.8℃
Refraction Rate: 1.457
Relative Density:  0.923
Purity:  99.2%
About 1,8-Cineole
1,8-Cineole is an organic compound which is a colorless liquid. It is a cyclic ether and a monoterpene. 1,8-Cineole is a natural constituent of a number of aromatic plants and their essential oil fraction. 
1,8-Cineole was given GRAS (Generally Recognized As Safe) status by the Flavor and Extract Manufacturer's Association FEMA, 1965 and is approved by the Food and Drug Administration for food use. 1, 8-Dihydroxy-10-carboxy-p-menthane, 2-hydroxy-cineole and 3-hydroxy-cineole are the main metabolites of 1,8-Cineole. 
The combination of 1,8-Cineole and other drugs is mainly used for the treatment of influenza, cold, bacterial dysentery, enteritis, various infections, tuberculosis and various skin diseases.
For more information of product, please send the email to bkherb@globals-globals.com


After send online enquiry, we will reply you as soon as possible, if not get any response on time please contact us by Tel or Email.This form is unable to receive your inquiry from aol, hotmail, gmail or others but company email address.
E-MAIL:bkherb@globals-globals.com
TEL: +86 592 536 5868
WHATSAPP: +86 189 6516 2351