Nettle Extract
Nettle Extract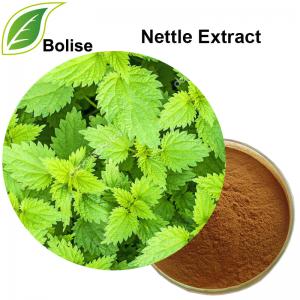 [ Specification ]    5:1  1%B-Sitosterol ,  2.5%Organic Silicon ,1% Silica Test By UV 
1% ߭Sterols Test By UV ,95% 3, 4-divanillyltetrahydrofuran HPLC
[ Botanical Name ]   Urtica dioica L
[ Used Part ] Leaves and Root
[ Appearance ] Brown Powder
[ Pharmacology function ]
   1. Whole plant may be used as medicine, cold, Sim, Wen Xing, small drugs.
   2. There will be a Qufeng scared, bleeding pain, Xiaosi purgation and detoxification effect. Fresh Miao Daozhituca may rule sufferers. Xiancaodaozhi topical medications may rule heat, poisonous bites.
   3. Shuijianfu used throughout 1986, may rule stomach belly pain, post-natal ventilation, children seem; An Jiantang scouring can cure arthritis and pain. Roots and the root of what washed jute can cure sores on the head remedy efficacy better; Adequate leach liquor few days, one can cure arthritis and pain. Ingredients Containing antiscorbutic acid, acetyl choline, nettle Network, Beta Gu steroid nucleus alcohol.
COA of Nettle Extract
Loss on drying: 5.99%
Ash: 6.45%
Mesh Side: 100% pass 80 mesh
Ratio extract: 10:1
Heavy metal: ≤10ppm
As: ≤2.0ppm
Cd: ≤1.0ppm
Pb: ≤2.0ppm
Cl: ≤1.0ppm
Phosphate Organics: ≤1.0ppm
Residual Pesticide: Negative
Total Plate Count: ≤1000cfu/g
Yeast & Mold: ≤50cfu/g
Salmonella: Negative
E. Coli: Negative
About Nettle Extract
Nettle, or stinging nettle, is a perennial plant growing in temperate and tropical wasteland areas around the world. The nettle has been naturalized in Brazil and other parts of South America. It grows 2 to 4 meters high and produces pointed leaves and white to yellowish flowers. Nettle has a well-known reputation for giving a savage sting when the skin touches the hairs and bristles on the leaves and stems. The genus name Urtica comes from the Latin verb urere, meaning 'to burn,' because of these stinging hairs. The species name dioica means 'two houses' because the plant usually contains either male or female flowers.
For more information of product, please send the email to bkherb@globals-globals.com


After send online enquiry, we will reply you as soon as possible, if not get any response on time please contact us by Tel or Email.This form is unable to receive your inquiry from aol, hotmail, gmail or others but company email address.
E-MAIL:bkherb@globals-globals.com
TEL: +86 592 536 5868
WHATSAPP: +86 189 6516 2351