Geum Japonicum Extract(Asian Herb Bennet Extract)
Geum Japonicum Extract(Asian Herb Bennet Extract)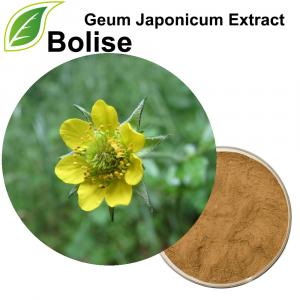 [ Latin Name ] Geum japonicum L.
[ Active Ingredient ] Gein,Sugars
[ Appearance ] Brown Fine Powder
About Geum Japonicum Extract(Asian Herb Bennet Extract)
Geum japonicum, commonly known as Asian herb bennet, has been used as a diuretic, astringent, anti-dizziness, and anti-headache agent in traditional medicine. 
The root is used as a poultice, applied externally to boils and ulcers. The whole plant is diuretic and astringent. It is cooked with other foods as an astringent in the treatment of coughs and haemoptysis.
For more information of product, please send the email to [email protected]


After send online enquiry, we will reply you as soon as possible, if not get any response on time please contact us by Tel or Email.This form is unable to receive your inquiry from aol, hotmail, gmail or others but company email address.
E-MAIL:[email protected]
TEL: +86 592 536 5868
WHATSAPP: +86 189 6516 2351