GABA(γ-GABA)
GABA(γ-GABA)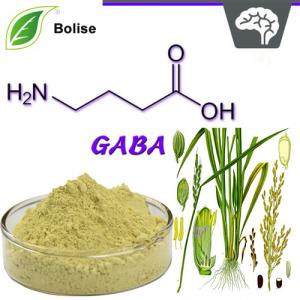 [ Specification ]  Protein 15%, Fats 16%,Dietary Fiber 8%,Sugar 28%,GABA 1500mg/100g 
[ Botanical Name ] Oryza sativa L.
[ CAS No.  ]  56-12-2
[ Molecular Formula ] C4H9NO2
[ Detection method ]   HPLC         
[ Raw Material ] Rice germ
[ Shape and properties ] Light yellow or yellow powder,Soluble in water.
[ Technological standard ]
The technology of distilling GABA from rice germ has been issued national patent right and reached the international leading standard.
[ Dose and Usage ] 
The fittest intake of GABA is 25-30mg per day for an individual. Specific instructions on 
[ Usage and effects ]
1. GABA as raw materials for pharmaceuticals and health care food
2. GABA dissolved in boiled water, beverage, milk to drink
3. GABA as functional food or as an additive to drinks
COA of GABA(γ-GABA)
GABA: 83.1 g/100g
Moisture: 2.6g/100g
Lead: 0.1 mg/kg
Arsenic: <0.5 mg/kg
Total Plate Count: 145 CFU/g
Coliform: 30 MPN/100g
Pathogen: Not detected
About GABA(γ-Aminobutyric acid)
γ-Aminobutyric acid (GABA) is the chief inhibitory neurotransmitter in the mammalian central nervous system. It plays an important role in regulating neuronal excitability throughout the nervous system. In humans, GABA is also directly responsible for the regulation of muscle tone.In insect species GABA acts only on excitatory nerve receptors.
Although chemically it is an amino acid, GABA is rarely referred to as such in the scientific or medical communities, because the term "amino acid," used without a qualifier, refers to the alpha amino acids, which GABA is not, nor is it incorporated into proteins.
In spastic diplegia in humans, GABA absorption by some nerves becomes impaired, which leads to hypertonia of the muscles signaled by those nerves.
 
For more information of product, please send the email to bkherb@globals-globals.com


After send online enquiry, we will reply you as soon as possible, if not get any response on time please contact us by Tel or Email.This form is unable to receive your inquiry from aol, hotmail, gmail or others but company email address.
E-MAIL:bkherb@globals-globals.com
TEL: +86 592 536 5868
WHATSAPP: +86 189 6516 2351