Sildenafil
Sildenafil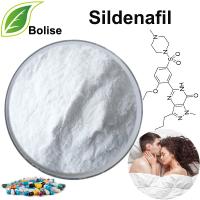 [ Product Name ]                 Sildenafil
5-[2-ethoxy-5-(4-methylpiperazin-1-yl-sulphonyl)phenyl]-1-methyl-3-n-propyl-1,6-dihydro-7h-pyrazol[4,3d]pyrimidin-7-one
[ Sildenafil Molecular Formula ]        C22H30N6O4S
[ Sildenafil Molecular Weight ]         474.58
[ Mechanism of action ]   The mechanism of action of Sildenafil citrate involves the release of nitric oxide (NO) in the corpus cavernosum of the penis. NO binds to the receptors of the enzyme guanylate cyclase which results in increased levels of cyclic guanosine monophosphate (cGMP), leading to smooth muscle relaxation (vasodilation) of the intimal cushions of the helicine arteries, resulting in increased inflow of blood and an erection.
Sildenafil is a potent and selective inhibitor of cGMP specific phosphodiesterase type 5 (PDE5) which is responsible for degradation of cGMP in the corpus cavernosum. The molecular structure of sildenafil is similar to that of cGMP and acts as a competitive binding agent of PDE5 in the corpus cavernosum, resulting in more cGMP and better erections. Without sexual stimulation, and therefore lack of activation of the NO/cGMP system, sildenafil should not cause an erection. Other drugs that operate by the same mechanism include tadalafil (Cialis) and vardenafil (Levitra).
Sildenafil is metabolised by liver enzymes and excreted by both the liver and kidneys. If taken with a high-fat meal, absorption is reduced; the time taken to reach the maximum plasma concentration increases by around one hour, and the maximum concentration itself is decreased by nearly one-third.
[ Uses ] 
  1)Sexual dysfunction
The primary indication of sildenafil is treatment of erectile dysfunction (inability to sustain a satisfactory erection to complete intercourse). It use is now standard treatment for erectile dysfunction in all settings, including diabetes. 
People on antidepressants may experience sexual dysfunction, either as a result of their illness or as a result of their treatment. A 2003 study showed that sildenafil improved sexual function in men in this situation. Following up to earlier reports from 1999, the same researchers found that sildenafil was able to improve sexual function in female patients on antidepressants as well.
2) Pulmonary hypertension
As well as erectile dysfunction, sildenafil citrate is also effective in the rare disease pulmonary arterial hypertension (PAH). It relaxes the arterial wall, leading to decreased pulmonary arterial resistance and pressure. This in turn reduces the workload of the right ventricle of the heart and improves symptoms of right-sided heart failure. Because PDE-5 is primarily distributed within the arterial wall smooth muscle of the lungs and penis, sildenafil acts selectively in both these areas without inducing vasodilation in other areas of the body. 
3) Altitude sickness
Sildenafil has been shown to be useful for the prevention and treatment of High altitude pulmonary edema associated with altitude sickness such as that suffered by mountain climbers. While this effect has only recently been discovered, sildenafil is already becoming an accepted treatment for this condition, particularly in situations where the standard treatment of rapid descent has been delayed for some reason. 
4) Use in sports
Professional sports players have been using drugs. It can opens of their blood vessels will enrich their muscles, therefore enhancing their performance. 
For more information of product, please send the email to sales@boliseco.com


After send online enquiry, we will reply you as soon as possible, if not get any response on time please contact us by Tel or Email.This form is unable to receive your inquiry from aol, hotmail, gmail or others but company email address.
E-MAIL:sales@boliseco.com
TEL: +86 592 536 5868
WHATSAPP: +86 189 6516 2351