Rimonabant
Rimonabant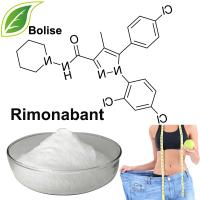 [ Property ]      Off-white to white crystalline powder, soluble in methanol.
[ Melting point ]       230℃~240℃ 
[ Drying shrinkage ] ≤0.5% 
[ PH ]      (10%water solution)4-7 
[ Heavy metal ]        ≤10ppm 
[ TLC ]         Only one spot  
[ Content ]               ≥99.5% 
[ Advantages ]         An experimental wonder drug, Rimonabant, helps you lose weight, quit smoking and it also helps protect your heart. Trials have shown that 33% of people on Rimonabant lost 10% of body weight and kept their weight down for two years - this is a record, no other diet drug has managed to keep a person's weight down for so long. As well as keeping you lean, the drug also helps you quit the smoking habit. This will be of great interest for many smokers who are afraid to give up because they say they will put on loads of weight if they do (young female smokers worry about this the most).  
[ Mechanism ]         There are nerve receptors that exist in the brain and fat cells. These receptors tell the body to overeat. Rimonabant blocks the signals these receptors give out - it stops them from telling us to overeat. Overeaters and addicted smokers have very active receptors of this kind.Rimonabant is a selective CB1 endocannabinoid receptor antagonist indicated for the treatment of obesity. It works by blocking endogenous cannabinoid binding to neuronal CB1 receptors. It is the most advanced endocannabinoid receptor antagonist in clinical development and offers a novel therapeutic approach to appetite control and weight reduction. 
Storage: Sealed 
[ Shelf life ]              2-3 years
[ Specification ]       1kg/20kg/50kg can be delivered (we can supply this product to you according to your requirement).
For more information of product, please send the email to sales@boliseco.com


After send online enquiry, we will reply you as soon as possible, if not get any response on time please contact us by Tel or Email.This form is unable to receive your inquiry from aol, hotmail, gmail or others but company email address.
E-MAIL:sales@boliseco.com
TEL: +86 592 536 5868
WHATSAPP: +86 189 6516 2351