Oxytocin
Oxytocin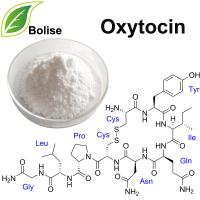 CAS NO.:50-56-6
About Oxytocin :
Oxytocin is a mammalian hormone that also acts as a neurotransmitter in the brain.It is best known for its roles in female reproduction: it is released in large amounts after distension of the cervix and vagina during labor, and after stimulation of the nipples, facilitating birth and breastfeeding, respectively. Recent studies have begun to investigate oxytocin's role in various behaviors, including orgasm, social recognition, pair bonding, anxiety, trust, love, and maternal behaviors.
Actions:
Oxytocin has peripheral (hormonal) actions, and also has actions in the brain. The actions of oxytocin are mediated by specific, high affinity oxytocin receptors. The oxytocin receptor is a G-protein-coupled receptor which requires Mg2+ and cholesterol. It belongs to the rhodopsin-type (class I) group of G-protein-coupled receptors.
For more information of product, please send the email to bkherb@globals-globals.com


After send online enquiry, we will reply you as soon as possible, if not get any response on time please contact us by Tel or Email.This form is unable to receive your inquiry from aol, hotmail, gmail or others but company email address.
E-MAIL:bkherb@globals-globals.com
TEL: +86 592 536 5868
WHATSAPP: +86 189 6516 2351