Androstenol
Androstenol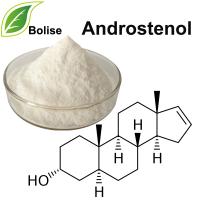 5-alpha-Androst-16-en-3-alpha-ol
Molecular Formula:C19H30O
CAS No.: 1153-51-1
About Androstenol:
Androstenol is an sex pheromone in pigs, possessing a musk-like odor.
It is found in large quantities in boar saliva, but also in smaller quantities in human sweat glands. It is analogous to sex hormones yet has minimal or no androgenic activity. Androstenol is secreted by the adrenal gland into systemic circulation in humans: Systemic effects have not been well studied.
Androstenol, or a chemical derivative, is found in truffles, and is offered as an explanation for how pigs locate them deep in the ground.
Both isomers have a weak, characteristic odor; however alpha-androstenol is often associated with a sandalwood-like aroma due to residual solvents (alkyl acetates).
For more information of product, please send the email to sales@boliseco.com


After send online enquiry, we will reply you as soon as possible, if not get any response on time please contact us by Tel or Email.This form is unable to receive your inquiry from aol, hotmail, gmail or others but company email address.
E-MAIL:sales@boliseco.com
TEL: +86 592 536 5868
WHATSAPP: +86 189 6516 2351