Rhododendron Arboreum Flower Extract (Solvent Extraction) Powder
Rhododendron Arboreum Flower Extract (Solvent Extraction) Powder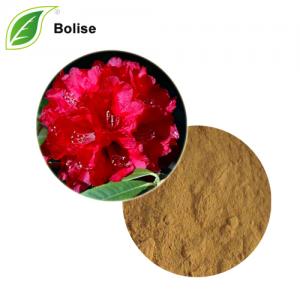 Latin name: Rhododendron dauricum L.
Extract Method:Water
Appearance: Brownish yellow powder
About Rhododendron Arboreum Flower Extract (Solvent Extraction) Powder :
Rhododendron arboreum is the national flower of Nepal and the state tree of Uttarakhand & Himachal Pradesh.
Rhododendron arboreum is an evergreen shrub or small tree with a showy display of bright red flowers,which has the effect of curing cough and relieving asthma.
Rhododendron arboreum is medicinally and economically a very important plant species. It is widely popular for the processed juice of its flowers which have gained market popularity as rhodojuice / sharbat. The plant is found in the Himalayas from Kashmir eastwards to Nagaland. Various parts of the plant exhibited medicinal properties & is used for the treatment of various ailments. 
A compound called postassium azeloyl diglycinate has been developed from rhododendron arboreum flower extract. It has been found to be a multifunctional whitening ingredient, and it also has moisturizing, regulating oil secretion and improving skin elasticity. Azelaic acid has the function of regulating the normalization of grease secretion of skin, antibacterial and acne removal and removing dark spots. In addition, it has high safety to skin and mucosa tissues, and can even be applied to oral drugs. However, the application of azelaic acid in the formulation has certain difficulties due to its low melting point, and it is prone to crystallization, which makes the formulation system unstable and has a rough skin feel.
 
For more information of product, please send the email to bkherb@globals-globals.com


After send online enquiry, we will reply you as soon as possible, if not get any response on time please contact us by Tel or Email.This form is unable to receive your inquiry from aol, hotmail, gmail or others but company email address.
E-MAIL:bkherb@globals-globals.com
TEL: +86 592 536 5868
WHATSAPP: +86 189 6516 2351