Naringinase
Naringinase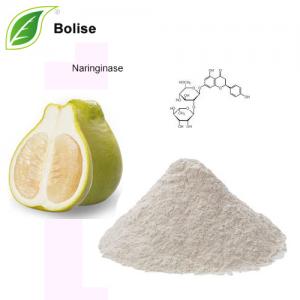 CAS No.:9068-31-9
Appearance:Off-white powder
Plant source: Citrus grandis L.
Purity:20%~98% Hplc
Density:1.66g/cm3
Function:
1. Antimicrobial
2. Anti-inflammatory
3.Anti-virus
4.Inhibition of the action of the eye aldose reductase
5.As a bitter agent
Application:
1. Applied in edible, medicine and commodity trade, as a new-style sweetening agent. 
2. Applied in milky goods, fattiness and grease, frozen foodstuff, machining vegetable, jelly, comfiture,
nonalcohol beverage, chewing gum, toothpaste and troche.
About Naringinase:
Naringinase mainly found in Citrus grandis fruit, grapefruit (Citrus paradisi), tangerine, orange peel and pulp.Naringinase is acting as a new kind of sweetener,and it is 500 to 700 times than sucrose, low calorific value, non-toxic.It can be used as a raw material for the synthesis of neohesperidin and neohesperidin dihydrochalcone. Under alkaline conditions, the pyrone ring is cleaved and hydrotreated to prepare a dihydrochalcone sweetener.
Naringinase is used in food, dietary supplements, nutraceuticals, pharmaceuticals- natural bittering and regulation of cholesterol and hyperglycemia.
 
For more information of product, please send the email to bkherb@globals-globals.com


After send online enquiry, we will reply you as soon as possible, if not get any response on time please contact us by Tel or Email.This form is unable to receive your inquiry from aol, hotmail, gmail or others but company email address.
E-MAIL:bkherb@globals-globals.com
TEL: +86 592 536 5868
WHATSAPP: +86 189 6516 2351