Wild Yam Extract
Wild Yam Extract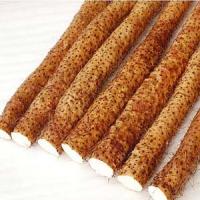 Specification: 20%diosgenin
Detection method:HPLC
Botanical Name:  Dioscorea opposita Thunb
About Wild Yam Extract:
Diosgenin, causes an inhibition of the growth of fibroblast-like synoviocytes from human rheumatoid arthritis, with apoptosis induction associated with cyclooxygenase-2 (COX-2) up-regulation. Celecoxib, a selective COX-2 inhibitor, provoked a large decrease in diosgenin-induced apoptosis even in the presence of exogenous prostaglandin E2, whereas interleukin-1߬ a COX-2 inducer, strongly increased diosgenin-induced apoptosis of these synoviocytes. These findings suggest that the proapoptotic effect of diosgenin is associated with overexpression of COX-2 correlated with overproduction of endogenous prostaglandin E2. We also observed a loss of mitochondrial membrane potential, caspase-3 activation, and DNA fragmentation after diosgenin treatment.
Diosgenin acts as precursor and triggers the production of natural progesterone in the women's body after she applies the herbal cream to the skin and effects the estrogen level. This suggests that it has the ability to self-adjust according to the bodies need.
For more information of product, please send the email to bkherb@globals-globals.com


After send online enquiry, we will reply you as soon as possible, if not get any response on time please contact us by Tel or Email.This form is unable to receive your inquiry from aol, hotmail, gmail or others but company email address.
E-MAIL:bkherb@globals-globals.com
TEL: +86 592 536 5868
WHATSAPP: +86 189 6516 2351