Tortoise extract(Turtle extract)
Tortoise extract(Turtle extract)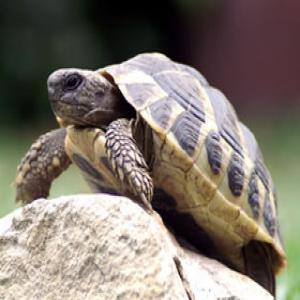 About Tortoise extract:
Tortoises or land turtles are land-dwelling reptiles of the family of Testudinidae, order Testudines.Like their marine cousins, the sea turtles, tortoises are shielded from predators by a shell. The top part of the shell is the carapace, the underside is the plastron, and the two are connected by the bridge. The tortoise has both an endoskeleton and an exoskeleton. Tortoises can vary in size from a few centimeters to two meters. Tortoises tend to be diurnal animals with tendencies to be crepuscular depending on the ambient temperatures. They are generally reclusive animals.
Function:
Tonifying Yin, suppressing Yang hyperactivity, nourishing the kidney, strengthening bones, arresting bleeding and normalizing menstruation.
For more information of product, please send the email to bkherb@globals-globals.com


After send online enquiry, we will reply you as soon as possible, if not get any response on time please contact us by Tel or Email.This form is unable to receive your inquiry from aol, hotmail, gmail or others but company email address.
E-MAIL:bkherb@globals-globals.com
TEL: +86 592 536 5868
WHATSAPP: +86 189 6516 2351