Soybean Extract
Soybean Extract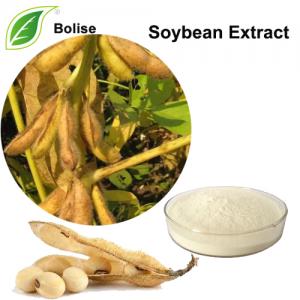 [ Botanical name ]   Glycine max (Linn.) Merr.
[ Specification ] Soy isoflavone 20% 40% 
[ Detection method ]   HPLC
[ Appearance ] Yellowish white powder
[ Plant Part Used ] Bean
[ Active ingredient ] Daidzin,Genistin,Glycitin,Soy isoflavone
[ Molecular formula and molecular weight ]
daidzin C21H20O9 , Genistin C21H20O10,daidzein C15H10O4 ,Genistein C15H10O5
[ Function ]
(1) Preventing osteoporosis
(2) Decreasing cholesterol and reducing the risk of cardiovascular diseases.
(3) Preventing cancer, especially prostate cancer and breast cancer and resisting tumor.
(4) Owning estrogenic effect and reliefing symptom of climacteric syndrome.
[ Application ]
(1) Applied in food field
(2) Applied in health product field
(3) Applied in cosmetics field
[ Pharmacology function ] 
Osteoporosis prevention, anti-cancer, cardiovascular disease prevention, menopause syndrome relief
COA of Soybean Extract(Soy Extract)
Loss on drying: 3.37%
Ash: 3.12%
Mesh Side: 100% pass 80 mesh
Extract Ratio: 10:1
Heavy metal: ≤20ppm
As: ≤2.0ppm
Residual Pesticide: Negative
Total Plate Count: ≤1000cfu/g
Yeast & Mold:  ≤100cfu/g
Salmonella: Negative
E. Coli: Negative
About Soybean Extract
Soybean extract is one of many plant extracts with anti-free radical biological activity.
Soybean extract may offer new applications as a food ingredient.
For more information of product, please send the email to bkherb@globals-globals.com


After send online enquiry, we will reply you as soon as possible, if not get any response on time please contact us by Tel or Email.This form is unable to receive your inquiry from aol, hotmail, gmail or others but company email address.
E-MAIL:bkherb@globals-globals.com
TEL: +86 592 536 5868
WHATSAPP: +86 189 6516 2351