Phytosterols
Phytosterols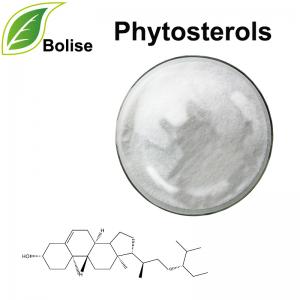 [ CAS No. ]  68441-03-2
[ Molecular Formula ]  C29H50O   
[ Molecular weight ]  414.7067
[Appearance]  White crystalline powder
COA of Phytosterol(Soybean ON)
Content of Brassicasterol:  13.16 %
Content of Campesterol:  26.65% 
Content of Stigmasterol: 8.77%
Content ofβ-Sitosterol:  49.65%
Content of total phytosterols:  98.23%
Coss on Drying:  2.03%
About Phytosterols
Phytosterols are plant sterols structurally similar to cholesterol that act in the intestine to lower Cholesterol absorption.Plant sterols and their hydrogenated forms, stanols, have attracted much attention because of their benefits to human health in reducing serum and LDL cholesterol levels, with vegetable oil processing being their major source in several food products currently sold. The predominant forms of plant sterol end products are sitosterol, stigmasterol, campesterol and brassicasterol (in brassica).
Phytosterols may be beneficial in lowering cholesterol levels. Because they have very low systemic absorption and are already present in healthy diets, increasing the intake of phytosterols may be a practical way to reduce coronary heart disease with minimum risk. Foods containing phytosterols have been shown to help cut cholesterol, and the US Food and Drug Administration has endorsed these products "as part of a dietary strategy to reduce the risk of coronary heart disease.
For more information of product, please send the email to bkherb@globals-globals.com


After send online enquiry, we will reply you as soon as possible, if not get any response on time please contact us by Tel or Email.This form is unable to receive your inquiry from aol, hotmail, gmail or others but company email address.
E-MAIL:bkherb@globals-globals.com
TEL: +86 592 536 5868
WHATSAPP: +86 189 6516 2351