Muira Puama Bark Extract(Potency wood extract)
Muira Puama Bark Extract(Potency wood extract)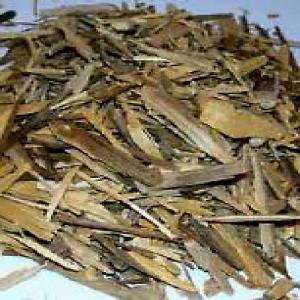 Specification:  muirapuamine,fatty acids,sterols
Detection method: HPLC
Botanical Name:  Ptychopetalum olacoides  
About Muira Pauma Bark Extract:
Several scientists studied the chemical composition of the extract of bark and root of this shrub. They identified esters of fatty acids considered as beneficial for the eutonie of the genital apparatus and the central nervous system.Muira puama contains .05% muirapuamine, .4% fat, .5% alkaloids, .6% pholbaphene, .6% alpha-resinic acid, .7% beta resinic acid, .5% of a mixture of esters including behenic acid, lupeol and beta-sitosterol, as well as tannin, volatile oils and fatty acids. Muira Puama improves the problems of weak sexual instincts and erection.
Functions: 
1)Increasing libido and increasing penile hardness. Muira puama is rich in naturally occurring sterols, which are possible building blocks for hormones such as testosterone. Also present are numerous other chemicals and volatile oils like camphor, which help restore the sex drive and inner depth of libido. 
2)Penile hardness may stem from its apparent effect on circulation.
For more information of product, please send the email to bkherb@globals-globals.com


After send online enquiry, we will reply you as soon as possible, if not get any response on time please contact us by Tel or Email.This form is unable to receive your inquiry from aol, hotmail, gmail or others but company email address.
E-MAIL:bkherb@globals-globals.com
TEL: +86 592 536 5868
WHATSAPP: +86 189 6516 2351