Momordica Fruit extract
Momordica Fruit extract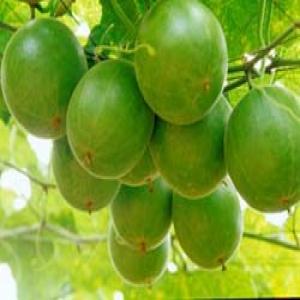 Specification: mogrosides26.7%,Glucose13.4% 
Detection method: HPLC 
Botanical Name: Momordica grosvenori
About Momordica Fruit extract:
Momordica Fruit is a perennial vine in the Cucurbitaceae (cucumber or melon) family.Lo Han Kuo is a fruit of natural sweet taste. The most unique chemicals reported that the fruit contains the triterpene glycoside non-caloric sweet known mogrosides. Its glucose is extremely high and its total mogrosides is about 250 times sweeter than sucrose (i.e. sugar). Lo Han Kuo products have been widely used in food, seasoning, beverage, medicine, health protection products, cosmetics and commodity etc.
Indications:
The Chinese medicinal experts believe that Lo Han Kuo is very good for hypoglycemia and diabetes, moistening the lungs and skin, helping sore throats, healing fever and coughs, purifying the blood, regulating the digestive tract, eliminating diarrhea and constipation, reducing stress and tension, helping to control food and sugar cravings etc.
For more information of product, please send the email to bkherb@globals-globals.com


After send online enquiry, we will reply you as soon as possible, if not get any response on time please contact us by Tel or Email.This form is unable to receive your inquiry from aol, hotmail, gmail or others but company email address.
E-MAIL:bkherb@globals-globals.com
TEL: +86 592 536 5868
WHATSAPP: +86 189 6516 2351