Herba houttuyniae extract(Heartleaf Houttuynia Extract)
Herba houttuyniae extract(Heartleaf Houttuynia Extract)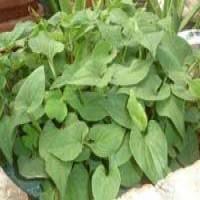 [ Specification ] 10:1, 20:1, decanoylacetal behyde      
[ Detection method ]  HPLC 
[ Botanical Name ]   Houttuynia cordata Thunb 
[ Family ]    Saururaceae E Meyer.
[ Description ]
 Houttuynia distillate is A perennial herb native to mountainous regions of eastern Asia. Grows to 15 inches high with an indefinite spread as a creeping rhizome in moist locations.
[ Uses ]
 The leaves of the chameleon plant are sometimes found in Vietnamese salads and garnishes.. The rhizome, too, is aromatic. The plant  contains a variety of flavoids, flavonoid glycosides (afzerin, quercitrin, isoquercitrin) and pyridine alkaloids; the essential oil was found to consist mainly of decanal (capry aldehyd), dodecanal (lauryl aldehyd) and 2-hendecanon (methyl nonyl ketone).
For more information of product, please send the email to bkherb@globals-globals.com


After send online enquiry, we will reply you as soon as possible, if not get any response on time please contact us by Tel or Email.This form is unable to receive your inquiry from aol, hotmail, gmail or others but company email address.
E-MAIL:bkherb@globals-globals.com
TEL: +86 592 536 5868
WHATSAPP: +86 189 6516 2351