Guarana Extract(Guarana Seed Extract)
Guarana Extract(Guarana Seed Extract)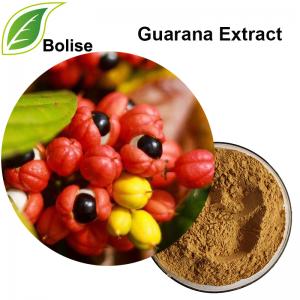 [ Botanical Name ] Paullinin Cupana H.B.K.
[ Specification ] 10%, 20%
[ Active Ingredients ] Caffeine,Guaranine,Theophylline
[ Detection method ] HPLC
[ Used Part ] Seed
[ Appearance ] Brown-Yellow Fine Powder 
[ Application ]
Pharmaceutical field, health care product field.
COA of Guarana Extract
Loss on drying:  4.31%
Ash:  4.32%
Mesh Side: 100% pass 80 mesh
Caffeine: 12.15%
Heavy metal: ≤10ppm
As:  ≤2.0ppm
Residual Pesticide: Negative
Total Plate Count: ≤1000cfu / g
Yeast & Mold:  ≤100cfu/ g
Salmonella:  Negative
E. Coli:  Negative
About Guarana Extract(Guarana Seed Extract) 
Guarana is an evergreen vine found growing in the wild basins of the Amazon rain forests. The indigenous people of the Amazon rain forest have used crushed guaraná seed as a beverage and a medicine. Guarana was used to treat diarrhea, decrease fatigue, reduce hunger, and to help arthritis.
Guarana's active components are guaranine and the alkaloids theobromine and theophylline. Guaranine is almost identical in chemical structure to caffeine and has many of the same effects. Guarana Extract also contains tannins, which may account for its traditional use to treat diarrhea.
Guarana Extract contains a substance similar to caffeine called guaranine. Guaranine stimulates the central nervous system, increases metabolism, and has a mild diuretic effect. It has been suggested that in combination with other herbs, guarana (guaranine) may be effective in helping to promote weight loss. This effect is probably due to an appetite suppressing mechanism, an increase in calorie burning, or both.
[ Storage ]
Store in cool & dry place; Keep away from strong light and high heat.
[ Shelf life ]
24 months when properly stored
[ Package ]
Enterprise standard. Drums or cartons, 25kgs/drum(carton),2.5kg/bag, double vacuum plastic packing (vacuum sealed foil bags) inside.
For more information of product, please send the email to bkherb@globals-globals.com


After send online enquiry, we will reply you as soon as possible, if not get any response on time please contact us by Tel or Email.This form is unable to receive your inquiry from aol, hotmail, gmail or others but company email address.
E-MAIL:bkherb@globals-globals.com
TEL: +86 592 536 5868
WHATSAPP: +86 189 6516 2351