Aniseed Extract(Star anise extract)
Aniseed Extract(Star anise extract)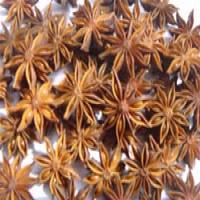 [Specification]  98%Shikimic acid
[Detection methods]  HPLC
[Botanical Name]    Pimpinella anisum
[About Aniseed extract]
  Anise extract is especially popular for Italian Christmas cookies. 
  Oddly enough, we first started stocking this extract in response to many fishermen, who swore they caught more fish when they put it on their bait! In addition to this use, anise extract is used for homemade Galliano or Absinthe liquors, many varieties of biscotti, anise tuiles, pfefferneusse peppernut cookies and pizelle. A few drops can be used to replace ground or whole anise seed in a recipe.
  Anise extract, a flavoring with a sweet licorice taste, is made by dissolving the essential oil of aniseeds in an alcohol base. Use products labeled "pure" or "natural" anise extract.
  Anise is the oldest of cultivated spices and was enjoyed by the early Egyptians, Greeks and Romans. By 1305, the flavor was so popular that the import tolls collected on anise seed helped pay for repairs to the London Bridge. 
The first time Faerie smelled anise was out fishing. Fishermen all over the world swear by anise. Just add a bit to your bait and watch the fish jump.
  It wasn¡¯t until many years later that she discovered the culinary delights of this ancient flavor. The flavor of anise can be found in many cordial liqueurs, including the French anisette, patis, ricard and pernod, Greek ouzo, and Turkish taki and arrak. It is also popular for cookies and biscotti.
  The Anise Extract we supply is extrected from the mature seeds of Pimpinella anisum plants which are Certified Organically Grown without the use of chemical fertilizers, pesticides or herbicides. To assure optimal extraction of Anise's bioactive compounds, the seeds are harvested when fully mature, are carefully shade-dried and cleaned of all chaff, and are then thoroughly extracted.
For more information of product, please send the email to bkherb@globals-globals.com


After send online enquiry, we will reply you as soon as possible, if not get any response on time please contact us by Tel or Email.This form is unable to receive your inquiry from aol, hotmail, gmail or others but company email address.
E-MAIL:bkherb@globals-globals.com
TEL: +86 592 536 5868
WHATSAPP: +86 189 6516 2351