Arteannuin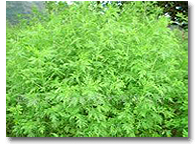 [About Arteannuin]
Arteannuin(Qinghaosu)is a very potent natural antimalarial isolated from theChinese medicinal herb.Its chemical structure elucidation andtotal synthesis have already been achieved.In view of its unusual sesquiterpene structureof an endoperoxide ketal-acetal lactone and its specific biological activity,the authours havebeen studying the problem of the biosynthesis of 1 since 1984.
[The source of the plant]    Artemisia annua L.
[Active ingredient]  Artemisinin
[Main specifications]  99%
[Molecular formula and molecular weight] C15H22O5:282.14
[Arteannuin function]
  1.Especially for malaria that recur every other day,
  2.CNS type of malaria, also
  3.effective for malaria that has developed drug resistance of Chloroquine.

   If you want to learn more about Arteannuin information, welcome to contact us!